Starting out, practicing her hair cutting skills on her husband in their kitchen to now a proprietor of a successful salon, Sringar Hair Design in Arlington, Massachusetts, Kiran Manandhar talked to us about her road to success.
Tell us about the salon.
The salon offers hair care, hair color, facial, scalp massage therapy, manicure and pedicure, waxing and threading. Our threading is considered to be one of the best in Arlington. We have been in operation since 2004, and we typically get 20–50 clients a day.
Tell us about your background.
I was born in Bhotebahal, Kathmandu Nepal, and grew up there. I am the youngest of eight siblings. My mom passed away when I was about four. I came to United States in 1990 to join my husband who had moved here two years earlier to pursue higher education.
As a child, did you aspire to be in the beauty industry?
In Nepal, some 30 years ago, when I was growing up, the situation was very different for women than it is today in America. Most women were housewives, and girls then didn't aspire to be anything beyond a housewife. So, that's what I aspired to too; I assumed I would be a housewife. However, one of my elder sisters, Nanu, who now helps me at the salon, used to own her own salon. So later on, I was inspired by her to get into the field. A couple of years after I moved here, I went to Melrose Beauty Academy in Malden, Massachusetts. Immediately after, I landed a job working in a salon in Arlington, where I stayed on for 10 years.

How did the salon come about?
My sister, Nanu, had recently come from Nepal, where she had run a salon for 25 years. Once in the United States, she too was working for someone else. She didn't particularly like it, and said that she would stay on in the US only if I opened my own salon. So my sister was both my inspiration and driving force. And my husband stepped up too. He offered to take care of all the paper work involved so we two sisters could focus on the operational side of the business.
How difficult was it in the beginning?
My thought process was never, "Let's open a salon and hoards of clients will just walk in." I had been working in the business long enough to know that it would be difficult to venture out on my own without any clientele. When I opened the salon, I had 100 percent of the clientele from the other salon. My sister too slowly acquired her own sets of clients.
What are some of the challenges you face in running the salon?
Finding stylists who fit into your salon is a challenge. I prize professionalism in my stylists and encourage them to always have positive attitude. Meeting such standards can be a challenge. I try my best to support and help them grow. Currently, we have four full-time and two part-time staff, most of whom have been with us for many years now. Also in our business clients come first. It is important to listen and treat them well. But sometimes, you get clients who complain no matter what you do. In such situations, my years of experience and the confidence that comes with that helps. Confidence is key in our business. After all, people trust you with their.
How is your typical day?
I work five days a week. Monday is my creative day when I update myself on products, techniques, and set goals for the week. I don't work on any clients that day. Fridays and Saturdays are busiest for me, averaging about 10 clients a day. At the salon, I never feel like I am working. Having conversations with women from all walks of life, hearing their stories, connecting with them, being able to make them feel better, I truly love what I do.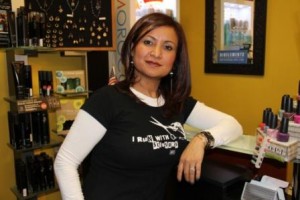 How difficult is it to juggle home and business?
It is difficult to juggle both, but I feel that when you are passionate about your work, and are intrinsically happy, you will find a way to manage it all. However, I do admit I am fortunate in that my husband works from home, and thus takes care of our home and our son and my sister helps with the business. Also, when I am stressed, I blame them both for encouraging me to open the salon in the first place.
What would you say is the key to your success?
I dream. I dream how I would like my life to be. Your dreams and motivation will not come from others. You have to help your self. It is you who have to dream, and work toward fulfilling them. In my business, it is important to keep up to date with changes in the industry. I am always looking into ways I can take the salon to the next level and to keep my clients happy and interested. It is also important to be aware of the competition and what they are doing well. I go to the Paul Mitchell hair show in Las Vegas every year. Product sales people also have their pulse on the market; I always make it a point to listen to them and learn about new products. Plus I take advice from the employees.
Any advice you would give to immigrants who are looking to open a business in America?
Ask yourself whether you have an interest in the industry you are looking to start your business in. Do I have the means and the skills? Do I have confidence in myself? Business is not just about operation and profits, it is also a platform to showcase your talent.
Your advice to young girls?
Be positive, always dream about what you want to do. It may take some time, but dreams do comes true. If you want, there is nothing impossible. I am a very positive person. I never think negatively about anything, be it my family, friends, or business. If I can do it, anyone can do it.
What's next?
I am living my American dream. I have my family, home and even my dream car. At 40, I am happy. Even if I don't open another salon, it is okay. I would love to though. I am always up for a challenge. People say they want to retire in their 60s, I say I want to retire in 10 years' time. I still want to run the business. It is just that I may not be on the floor doing hair. I want to be creative in some other ways. I also would love to go back to Nepal and share what I have learned here. There are a lot of hair salons in Nepal now. Along with my sister, I could perhaps do a two-day hair show.
Tips to Nepali women.
Nepali women don't do anything for themselves. It's always about the husband or the children. They are not worried about their own hair but their children's hair. It is important to make yourself feel good. When it comes to this, we can all learn from American women. Like mortgage or rent, they allocate budget for manicures, pedicures, haircuts, threading, etc. I have to say today's young generation do know how to live life. Make yourself happy, and then make others happy. Think about it, if you are not happy, how can you make others happy?